E-mail marketing for e-commerce
Updated: 4 November 2020
Email marketing for E-commerce
Time to read: 4 min

Covering: The 10 most important emails your e-commerce business needs to be doing. 
A lot of revenue is made on the back-end of an e-commerce business and email-marketing is the best way to keep your customers in the loop. Let's take you through the top 10 highest converting emails every e-commerce business should be doing.  
1. The Welcome Email
Give value, either through inspiration or a discount code. Make sure the code is unique as it increases the conversion-rate. Make it easy to navigate straight to the relevant category. Lastly, keep it easy to digest with only relevant info and a neat design. 
2. The Curation Email
How can you add additional value?  Let's say you own a fitness e-commerce store, you could add value on top of just selling training-equipment by adding workout-guides for each equipment. The workout-guides could both be used to increase the conversion-rate as a freebie during purchase, or as a curation e-mail for them to get interested in purchasing. Then you can for instance upsell from resistance-bands to pull up bars through introducing pull ups at the next stage of the workout-program. 
How do you know what they want to see? In some email softwares, you have the option to see which emails the customer opens. This way you can segment the customers based on the categories of your webstore. The different segments could for instance be home workout equipment, fitness clothing and nutrition. Many email-softwares allows you to tag the subscribers to keep an easy overview. 
3. The Referral Email
Conversion rates increase when recommended by a friend or someone you know. 
Free marketing – It can cost you very little and is an easy way to keep customers happy while increasing your audience.
4. The Discount Email
Running discounts during special periods can be very effective in increasing conversion-rates. At the same time, it's important to remember to not overdo it and to only do it for specific times of the year. These types of emails are usually appreciated by the audience and VWO found that 72% of Millennial shoppers are open to retargeting via discounts. Moreover, 54% of shoppers are likely to purchase abandoned products if they're offered again at a discounted price. (More on that shortly).

5. The Cart Abandonment Email
Just think about it – How often don't you abandon a cart?
It could be anything from distractions to an additional shipping fee making us exit the site. 
According to a recent report by Baymard Institute, 69% of all e-commerce visitors abandon their shopping cart and the main reason was due to shipping fee.
BeardBrand, a men's grooming brand have a unique approach of creating abandonment email by making it personal, simple, and as if the founder of the company is writing to you. The founder also states that the customers can reply to his email to be genuine and to build relationships with the audience.
Below is another version that BeardBrand are testing the conversion-rates with.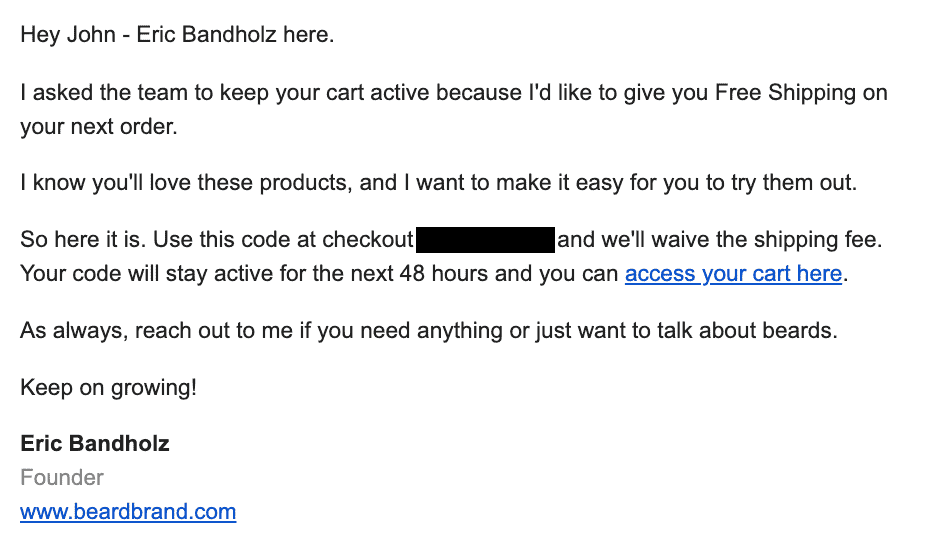 6. The Order Confirmation Email
Set the expectations from the get-go and avoid customer service that could be automated. Here you want to show how the customers can track their parcel and also inform them about shipping time.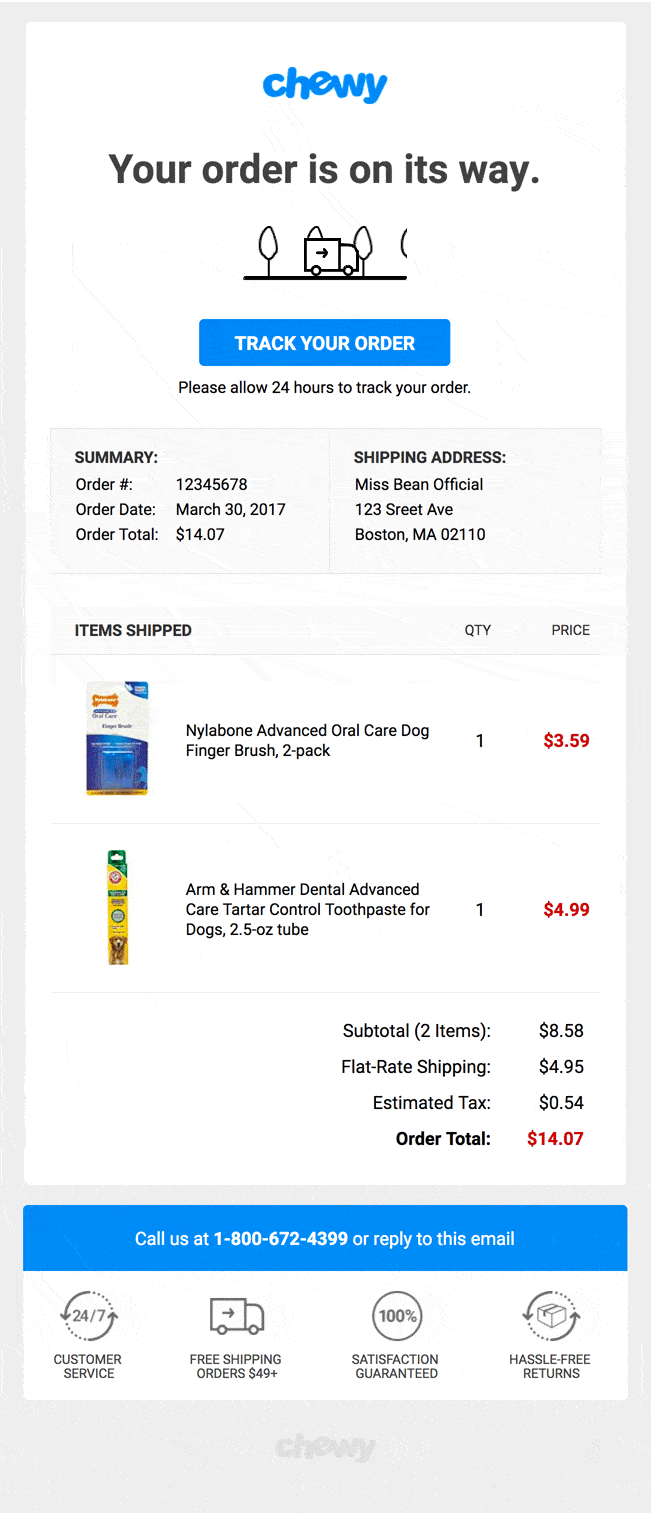 7. The Upsell Email
Upselling is when you invite a prospect to buy a more expensive item in a bid to boost their average order value. Cross-selling involves recommending a related or complementary product.
Here is an example of BeardBrand yet again doing great email-marketing.

8. The Win-Back Email
Remind your customer why they became your customer in the first place. Show the awesome benefits of your product provides Make your customer feel recognized and appreciated and perhaps give an incentive for them to come back such as a discount code and let them give feedback.
9. The Survey Email
If you really want to improve your business, then you should ask the customers about their desires and pain points. This will give you an opportunity to improve your marketing and your business as a whole. 
Many brands, like Frye, offers incentives to take their quick and easy survey. Think about it – Would you want to waste your time if it wasn't for a discount code? At the same time, the results of the survey might be biased due to customers only taking it for a discount so make sure the questions are able to unveil areas of improvement. 
10. The Thank You Email
A break in marketing might be serving your business well. Show your audience that you appreciate them without any agenda such as Brooklinen does well:
I've been managing SMM (social media marketing) and SEO (search engine optimization) for different businesses over the last 4+ years. Through my website I share strategies for e-commerce businesses.